A
few months ago, on the same day I turned thirty, I signed the lease to my first real New York apartment. To celebrate both occasions my wife surprised me with an unexpected gift: a record player, complete with amp and tuner. Nothing fancy (it had been donated to her by her boss) but perfect for a young couple looking to get its groove on in a one-bedroom third-floor walk-up.
I owned only two LPs at the time, which I'd acquired in the vague hope that sooner or later I'd have my own turntable on which to play them. The first was The Nightfly by Donald Fagen, purchased for a dollar at East Village Thrift Shop on Second Avenue. According to jazz-rock legend, this was one of the first commercial albums to be fully recorded digitally. I'd only ever heard it on CD, but on vinyl its grooves were warm and full. I later read that "I.G.Y." (the opening track on side one) is the go-to choice for sound engineers and audiophiles when setting up their equipment, deeming it also a worthy selection with which to debut my own home sound system.
The other record was Some Girls, which I'd bought in the original elaborate sleeve from a guy on the street somewhere on upper Broadway. Arguably the Rolling Stones' most New York-centric record, the album held fewer surprises but sounded as tough and taught ever. Thrilled with the new addition to our home, the next morning we took a stroll through the neighborhood in search of expanding our vinyl collection. Within a couple of hours we'd amassed such a heavy trove of classic LPs that we had to turn back. That night we spun our latest purchases at my birthday party, which meant my meticulously-compiled 2009-1979 reverse chronological playlist had to be eighty-sixed at the eleventh hour. But who cares when you're replacing it with a gently worn copy of Al Green's Greatest Hits?
Almost overnight, I'd been presented with a new project to distract me from more important responsibilities. Suddenly a day without a visit to a record store was considered a day wasted, and my walks home from work became invariably interrupted by a fast perusal of the NEW ARRIVALS section at Academy Records on East 12th Street. Whether you consider this activity a worthy hobby or simply another means of parting with significant amounts of cash will depend on how you feel about John Coltrane (particularly the stuff on Impulse). At first I was quite discerning in purchasing used vinyl, spending money only for recordings that belonged on my personal all-time favorites list, or, alternatively, for those that were relatively unknown to me but that my wife or I considered intriguing enough to excite or entertain, at least for an evening or two. This responsible approach began to slacken however, after it quickly became apparent that it wouldn't take me much more than a week to pick up everything Dave Brubeck, Van Morrison and Blondie ever recorded for next to nothing.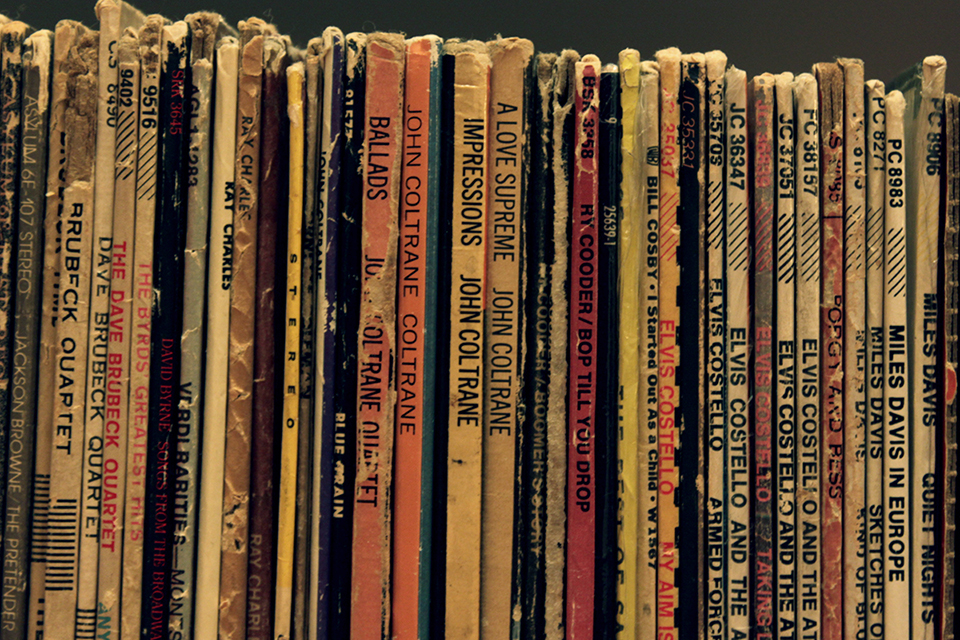 Despite the fact that most young people these days don't even own a stereo, let alone a turntable, there are still several old-fashioned record shops well worth a visit operating just blocks from our apartment. Greenwich Village is generally pricier ($48 for Sticky Fingers?) and subway rides to other stores often prove less fruitful, with some on my list having long-since closed. Strider Records on Jones Street (of Freewheelin' fame) has so much inventory stacked on the floor you can't even get inside. Instead you have to stand in the doorway and tell them what it is you're looking for. I've spent upwards of twenty dollars on a couple of occasions — usually for classic be-bop — but the majority of LPs in my collection cost less than five bucks, some as little as fifty cents, and others even less. Leaving work one summer's evening I tripped over a 1947 Metropolitan Opera recording of La Bohème which had been left lying in the middle Lexington Avenue.
I'm thirty (as I mentioned earlier) and like most people my age I grew up hearing music on vinyl at home, or on TDK cassettes in the car and on my Walkman (we didn't have a CD player until 1993). Part of the pleasure of building my LP library has been the subconscious recreation of my parents' own record collection, and the subtle discrepancies between US and UK releases. For instance, did you know that the design of Columbia spines slightly on either side of the Atlantic? (I remember always reading the spines while on the telephone — back in the days when phones stayed in one place.) Like any level-headed person my Dad keeps his collection in alphabetical order (anybody adhering to an alternative filing system ought not to be trusted), but when I was little he'd always have a stack of new records or stuff he was currently playing propped up on the floor. I know for a fact I spent more time staring at the cover of some albums than actually listening to them.
As much as I'm a close listener, I've always been an avid consumer of music, in the sense that I'm interested in the whole product. For me, most of my favorite music is inexorably connected to its album, its cover design, its release date and in some cases even its personal relevance or standing within a greater cultural context. So I'm routinely surprised by people who are willing to pay for digital downloads of albums. Yes, it's on your hard drive before you know it and in a matter of seconds has been unzipped and dumped into your iTunes. But it leaves the customer without anything else — artwork, liner notes or a lyric sheet — with which to enhance the listening experience. Personally, when it comes to my favorite albums I want to know who played the instruments, who wrote the songs, where they were recorded, who photographed the band, who designed the cover. For these simple reasons I've never felt compelled to pay for music in a digital format in my life.
These days if I'm interested in a new recording I'm likely to order the CD online, firstly because it's cheaper, but also because when I try to think of where I'd purchase a CD physically in New York my mind goes blank. Tower Records, HMV and Virgin Megastore have all pulled out of Manhattan in the last few years and, incredibly, CD sales are now said to lag behind those of vinyl records. If I were to buy a new CD in person today I'd probably have to go to a chain bookstore or a giant warehouse selling microwaves and flat-screen televisions.
Conversely, there are plenty of people not much younger than me who've never walked into a record store to buy music. No doubt they enjoy the convenient immediacy of the digital format, plus the fact that it takes up no extra physical space in their home. But their kids will never know the feeling of lying on the living room rug, seeing a record they've never heard, and imagining how it might sound. Theirs is the first generation that won't grow up listening to albums, which doesn't bode well for the future of music — or society, for that matter — in general.
I own an iPod, but I only use it at the gym or the airport or if I feel like zoning out on a long walk. It's great for those purposes: it weighs almost nothing and even clips to my clothes. But I can't imagine it being the only way I listened to music. The MP3 has transformed the way society purchases and listens to the musical product. It has encouraged the demise of the album as unique art form and promotes an already pervading culture of instant gratification. In the digital age, where attentions are already spread too thinly, a song doesn't stand much of a chance if it hasn't grabbed its listener within the first five seconds. The difference is akin to that between watching a movie from start to finish and simply clicking on a series of memorable clips on YouTube.
What makes an LP special is that unless you are willing to get up every three minutes to flip a disc over you're inclined to sit through the whole side, thus hearing the record just as it was made to be heard. Without a convenient means of skipping tracks you're far more likely to be taken by surprise and, if you're lucky, discover something new. Just as the virtual e-book cannot replicate a shelf full of dog-eared paperbacks, a record player's tactile quality makes for an ultimately more rewarding listening experience that truly enhances your living space. Every home should have one.