T
he life of a young writer is a hectic and stressful existence, often involving long hours of frantic typing as a deadline fast approaches, time which could be better spent sleeping or enjoying a proper dinner. However, occasionally we must abandon the iBook (or 1960 Lettera 32 Olivetti typewriter) and venture into the real world, all in the name of "research". This usually means checking out a new bar or club, a task which has the added incentive of perhaps getting a free drink and/or meeting some girls.
Thanks to their brief mention in Elle Decor magazine, I had recently become aware of two designer hotels, The Continentale and the Gallery Hotel Art, each styled and owned by the Salvatore Ferragamo family. Elle boldly describes these establishments as "the jewels in Florence's hotel crown" — both hotels sit opposite each other in a tiny piazza neatly tucked behind the Ponte Vecchio called Viccolo dell'Oro (literally "Little Street of Gold").
I wander through the sliding door of the Continentale Contemporary Pleasing Hotel (to give it its full name) and enter into a chic Hepburn-inspired '60s fantasy world, though it's much too tasteful for the term "swinging bachelor pad". Resembling 007's secret love nest, the lobby is a series of wooden logs, kitsch lamps and plush pink chairs. A smart man and woman stand poised like mannequins halfway up the steps, who then immediately spring to life, inviting me to take a look around the building's several floors and mezzanines. I glide up a short flight of stairs where I arrive in what appears to be a mini-movie theatre, where the final rain-sodden frames of Breakfast at Tiffany's play out on a large plasma screen. For a moment I almost wish I didn't already live in Florence, just so I could come and stay here. When I return to the reception, the blonde woman awaits with a brochure, which takes the format of a selection of large-scale postcards slipped inside a clear plastic envelope.
I stroll across the piazza, and pull open the heavy wooden door of the Gallery Hotel Art. Inside, the staff is older but equally responsive to my polite inquiries, and once again I am encouraged to admire the lounge and restaurant. I am offered a drink at (The Fusion Bar) attached to the hotel, which from what I can gauge is a pretentious hangout for Florence's superficial elite. The sign outside is enough to tell you that (The Fusion Bar) perhaps takes itself a little too seriously: the very name of the bar has to be contained within the safety of parentheses.
I perch on a chunky leather stool, order my usual Campari Soda, and begin to browse through the numerous design-related coffee-table volumes displayed by the bar. Several minutes later, the barman presents me with my drink. I don't know what he did to it or why it took him so long, but it's the best Campari Soda I've ever tasted. A long oblong dish of unidentifiable edibles arrives, which I prod at cautiously with an extra-long cocktail stick. As I mix my aperitivo and nibble on what I think is sushi, I turn to admire the blown-up photograph of a woman in her underwear answering the telephone on her hands and knees, which covers the back wall. "This is my kind of place," I think.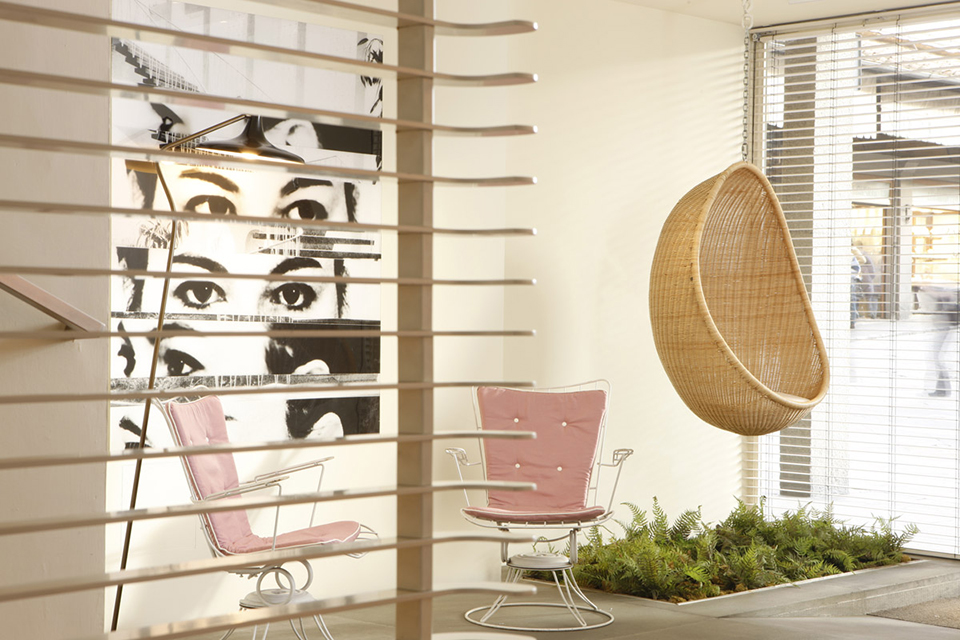 It's true that such places of luxury are often over-priced, overwrought and over-rated, but they do know how to treat you well and the staff have a habit of making you feel like the most important person in the room. After I've finished my drink and am about to leave, the concierge asks me if I've yet had the opportunity to see the roof terrace of the Continentale. I respond with an enthusiastic no, and he leads me to a trio of elegant young women who stand chatting by the potted plants on the decked entrance to the bar. The dapper little man picks out one of the group. "Stefania," he interrupts. "Can you please show James to the roof terrace?" I'm so instantly enamoured by Stefania I forget to ask how he knows my name. "Certainly," Stefania says, and with a swish of her raven ponytail she escorts me back to the Continentale. "Follow me."
We return past the candy-coloured seats and split-screen Audrey prints and enter a stark white cube. Lit from all six sides and possibly deriving from the set of 2001: A Space Odyssey, this futuristic box turns out to be the elevator. Stefania presses an invisible button and a few seconds later we step out at the top floor, where walk onto the Contintentale's roof garden, also known as the Sky Lounge. OK, so the name sounds like one of those crappy bars at Heathrow where holiday-makers drink Budweiser at ten in the morning, but I am willing to forgive that oversight. Not five minutes ago (The Fusion Bar) had seemed to be the epitome of cool, but this place is on another level, literally. I think it's what they call "raising the bar".
The square wooden terrace is lined with a crisp green hedge and a pale cushioned bench, upon which lounge a dozen or so people apparently well-accustomed to this lifestyle, as not even the presence of Stefania garners a reaction. A vast canopy keeps out the low sunlight, and the tables — which are made of steel framed boxes — each have a bulb gently glowing inside. The overall look is slightly Scandinavian, but something tells me none of it's IKEA. With a subtle wave of her slender hand, Stefania presents the stunning panorama, pointing out the Duomo and Palazzo Vecchio. "You can probably see my balcony from here," I suggest, failing to impress her.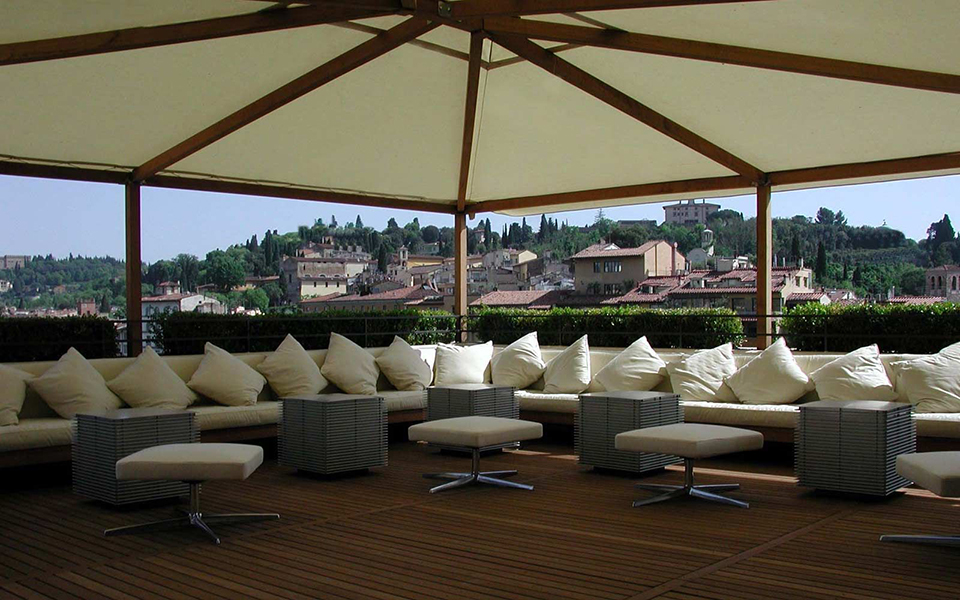 This is such a magical setting, it comes as no surprise to learn that the Sky Lounge has witnessed over two dozen marriage proposals since its refurbishment in 2003. I am about to get down on one knee in front of Stefania when she turns and says, "I'll leave you to enjoy yourself." I thank her for the ride in the elevator and tell her I'll be back on Saturday. It's at this point I become aware of the intoxicating and sophisticated groove which seems to emanate from miniature speakers discreetly hidden within the foliage. I take in my surroundings and decide I'm not quite ready to leave just yet. Feeling slightly under-dressed but blending quite well in my faded t-shirt and retro adidas, I order another drink, which I sip in the company of skinny foreign models as the setting sun glistens on the Arno.
Twenty-four hours later I'm back at my usual bar for a routine aperitivo. My Campari has a slice of lemon instead of orange, floating between two rapidly melting lumps of ice which I poke at aimlessly with a straw. Needless to say this place does not enjoy the distinction of punctuation around its name. I'm sitting on metal garden furniture while munching on bits of mini pizza, the CD keeps skipping and there's no sign of a roof terrace. My mind continues to drift back to the Continentale, where I can't help but look forward to my next trip with Stefania in the white cube. But tonight I'm with my friends and don't feel at all out of place. Still somehow I'm not satisfied. Something's missing. It's too late — the bar has been raised.