A
RE U READY? A calm female voice pierces the darkness. The palpable sense of anticipation among the 20,000 people crammed into Madison Square Garden is ignited as the New Power Generation lays down a hard blues-funk groove. Moments later, a dark figure rises slowly into view, a Telecaster slung across his dimunitive frame completing his silhouette. He takes his position in the center of the glyph-shaped stage, motionless in four-inch platform heels, his gold rhinestone-covered playsuit dazzling amid a multitude of camera flashes. Finally the artist most people never stopped calling Prince introduces himself:
"From the heart of Minnesota/Here come the purple Yoda!"
The song is "Laydown", a hidden track from his most recent album,
20Ten
. For a man who's enjoyed hit records in each of the last four decades it's an unexpected choice of opener, but Prince has made a career out of defying odds and logic to keep fans and critics guessing, and at fifty-two isn't about to stop now. How else could a five-foot-two Jehovah's Witness from the Midwest generate such excitement?
I've been a fan of Prince's for as long as I've been listening to pop music but I'd never had the chance to see him perform live – until tonight. The first songs of his I remember hearing as a child were "1999" and "Little Red Corvette". Though both huge stand-alone hits, I've never been able to separate them in my mind, probably because the two tracks run straight into each other on the first side of the 1999 double LP. Perhaps Prince feels the same way, as he immediately presents both songs back-to-back, almost as if to atone for having started the show with a song most people have never heard (or heard of). The drum machine and synth intro to "1999" is instantly familiar, and by the end of the number Prince has the crowd chanting "Paarr-tay!" like it's 1982. He even breaks the song down to funk guitar and falsetto for the spoken-child portion which closes the track ("Mommy, why does everybody have a bomb?"). Twenty-eight years after its release (and eleven since its supposed obsolescence), this vintage slice of Minneapolis dance-funk still sounds like it was written last week, and if a more irrefutable summons to the floor has been recorded since I've yet to hear it.
In contrast, "Little Red Corvette" is initially unrecognizable, as Prince strikes a single extended note repeatedly on his guitar, which he then perfectly mimics with his own voice. Only when he gets to the brilliant first line, "I guess I should've known by the way you parked your car sideways that it wouldn't last", does the crowd recognize the song that is still heard daily on every FM radio station. The song speeds up for the hand-clapped chorus but then shifts tempo once again. "Slow down!" Prince begins to cry, until he has the crowd chanting it like a mantra. Bathed in a red light and half-hidden by plumes of smoke, he revels in some trademark solo dance moves until the song atmospherically shuffles to a halt.
By the time I gather myself, Prince is already seated at a purple piano at the swirly part of the stage. "Can I talk… to the ladies?" His request is met with wild approval, and he dives into "The Beautiful Ones", the dramatic ballad from Purple Rain. For this number he is joined on stage by Misty Copeland, a promising ballerina who had been granted a night off from her regular gig at the Brooklyn Academy of Music. Prince steps away from the piano to engage the young performer as she swings her legs in the air and twirls her long flowing dress. They're the kind of moves he might have busted himself twenty-five years ago, but for once, on this occasion, he's just happy to watch.
Prince cranks up the energy levels and works up the crowd during stretched-out funkathon "Controversy". "Who wanna dance with me?" he asks as a backing singer pulls audience members out of what must be a sort of celebrity pen down by the stage. The first guest, a woman named Paula, is quickly booted ("Get off the stage!") for her apparent lack of dancing skills. Prince repeats the joke with reality star Kim Kardashian ("She might be too sexy…"), whose complete failure to indulge her host and subsequent dismissal is met with howls of derision. "Welcome to America," Prince quips. "Where you can get famous for doing nothing at all!"
The lengthy intro to "Purple Rain" begins in total blackness, and as the outline of the stage is gradually picked out in purple lights, as if being drawn by a magic glow-in-the-dark pen, the crowd enjoys several rounds of the song's "Ooh, ooh, ooh-ooh" refrain before Prince has even finished his refreshment break. Prince seems to recognize that this is a key number in the set, but doesn't let that get in the way of his sense of humor. "Y'all mind if I play my guitar?" he politely asks mid-way through, before launching into a mesmerizing four-minute solo, his face contorting like a man possessed.
Returning to the stage in a loose gold silk shirt, a relaxed Prince segues between two of his most radio-friendly hits: "Raspberry Beret" and "Cream". Such is their common bouncing groove you'd be forgiven for thinking both songs had been designed to be performed together, had they not been written years apart. Prince is clearly in a playful mood, and is joined by the Roots' ?uestlove for a joyous rendition of "Cool", a semi-forgotten relic originally written for Morris Day's The Time. More galvanic funk follows, with "Let's Work" and "U Got The Look" closing the set.
Just over an hour has passed, but Prince is just warming up. He returns not five minutes later to dedicate "Nothing Compares 2 U" to his first drummer, Bobby Z, who suffered a heart attack last week. The song was originally written for The Family in 1985 — Prince never recorded the song in the studio but has occasionally performed it as a duet in live shows, this time with the stunning Shelby Johnson. What became a whiny melodramatic hit single for Sinead O'Connor is presented here as a warm ode to a couple's reconciliation. "Real music by real musicians!" exclaims Prince as he exits the stage. "Support the arts!"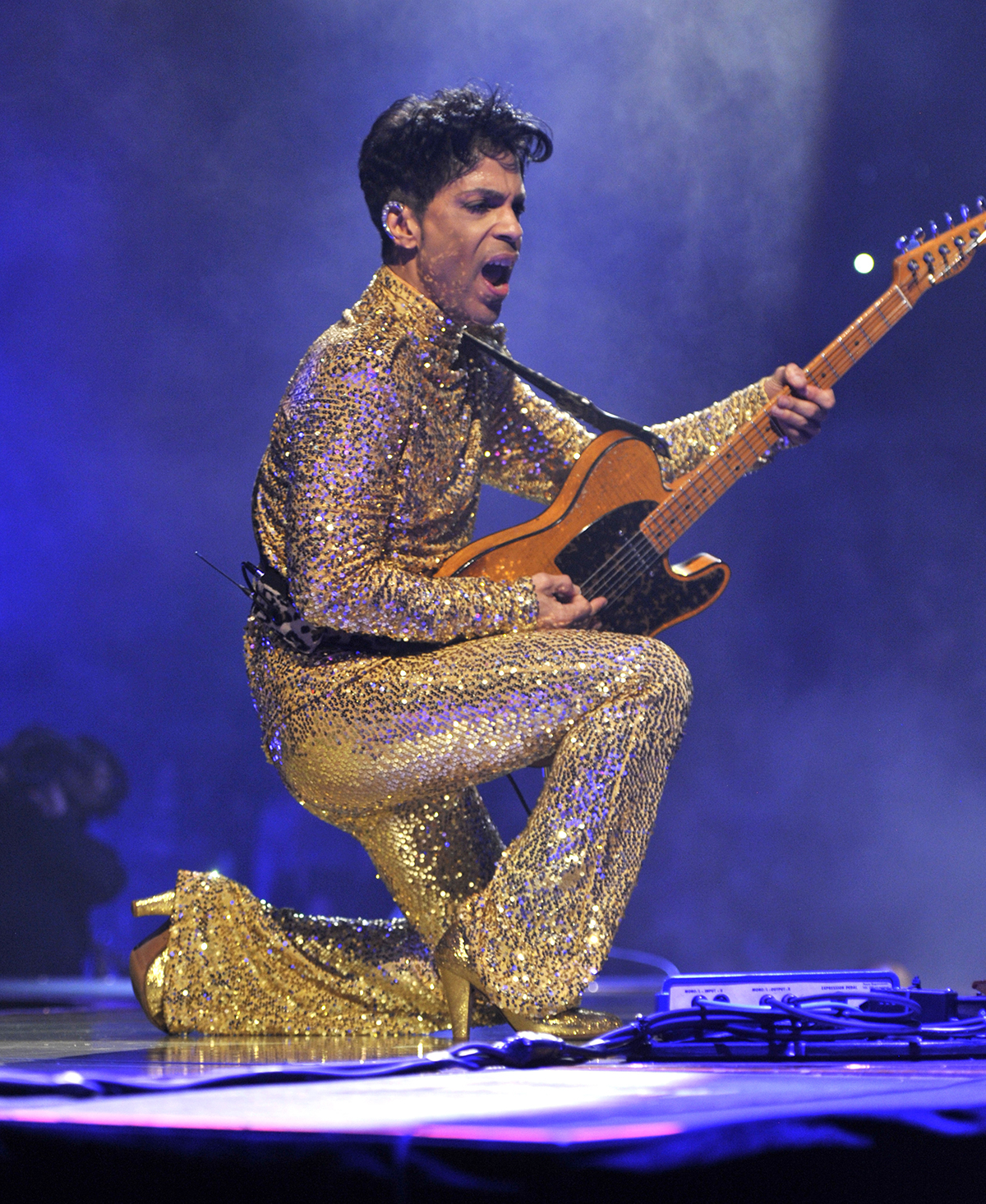 W
arm-up act Cee-lo Green returns to perform his Gnarls Barkley hit, "Crazy", with Prince taking on routine guitar duties. Now dressed in matching red silk shirt and loose-fitting pants, notably Prince is wearing flat shoes (rumor has it that years of performing in platforms have apparently taken their toll). Prince seems keen to get things back on track, and though his height is now compromised, from here the show only grows in stature.
Immediately, the words "Dearly beloved" generate predictably rapturous excitement from all those in the crowd who think Purple Rain is Prince's best album. But few songs are as hard to ignore as "Let's Go Crazy" so who can blame them? The song briefly slips into "Delirious" before returning on course in time for Prince to embark on another mind-altering guitar solo, as purple discs of confetti explode from canons mounted beside the stage. It would have made for the ultimate show opener, but despite what we've just witnessed it's not 1984 anymore so he's free to play what he likes. Prince returns to the keyboard for "When Doves Cry", but when he gets to the part about "You and I engaged in a kiss", he interrupts himself to switch to the inimitable guitar twang of "Kiss" before he can say the operative word. Inevitably, the extended live version cannot match the spare production of the studio recording, but Prince certainly has fun, even updating the lyrics. "You don't have to watch… The L Word," he snarls, suggesting perhaps that it's a few years since the cable bill was renewed at Paisley Park.
As if suddenly feeling pressed for time, Prince seems keen to remind us of the sheer depth of his back catalogue. Returning to the piano (which is evidently fitted with some kind of advanced version of iTunes) Prince begins indecisively plucking for several minutes from a pre-programmed roster of classic songs, of which we sadly only get to hear snippets. I personally would have preferred to hear a couple in their entirety. "Too many hits!" he jokes, by way of an explanation for this teasing dalliance. This segment is made further distracting by Prince's ill-advised decision to invite members of the celebrity pen on-stage (of whom I can make out only Chris Rock and the already disgraced Kardashian), most of whom seem unsure what to do with themselves. The one exception is an unidentified man who begins an unprovoked solo jig in the middle of the stage, prompting Prince to call a halt to the medley in mock panic: "Security!"
Finally, Prince settles on a song, climbing atop his piano for "If I Was Your Girlfriend." Though one of his most mature studies of male-female relations, he still prefaces it with a warning: "If we play that somebody gonna get pregnant." So many artists have appropriated Prince's penchant for slow ballads that it's easy to forget that he practically invented the genre in its modern form, and has recorded enough bedroom songs to account for others' entire careers. As if reminded of the fact himself, Prince — now lying flat on the piano's closed lid — segues into "Insatiable", "Scandalous" and "Adore". He slowly makes his way around the stage, at one point even feigning physical exhaustion in a move borrowed directly from James Brown. The pace of the first two hours finally subsides, and we are treated to an intense tour-de-force of vocal prowess and falsetto showmanship, in which Prince overwhelmingly redeems for his previous misstep. Arguably the evening's highlight, it's an unforgettable twenty-minute suite that leaves every woman in the audience on her knees and this grown man in tears.
* * *
I
regret never having seen Prince at his commercial peak. Tonight the quirky musicians, jazz-funk horns, extended show-stoppers and overt sexuality of his mid-eighties shows are sorely missed. But though he may lack the moves and urgency (if not the energy) of a performer in his prime, the evening is indisputable confirmation that both his voice and guitar (he played the same beat-up Telecaster — the one from
1999
's inner-sleeve — throughout) sound better than ever. So much speculation has surrounded the more intriguing aspects of his career that his unfathomable talent has at times been taken for granted. Yet he has emerged from his commercial heyday as arguably the most timeless songwriter and gifted performer of his generation. I remember a brazen British journalist once called Prince the "Mozart of the Twentieth-Century". While it's highly possible we'll still be hearing "Raspberry Beret" on the radio centuries from now, given his prolific output, sheer versatility and irreversible effect on popular culture it might be more accurate to nominate him the "Picasso of Music".
Prince has always conveyed a sense of "otherness", shattering stereotypes and boundaries surrounding race, sexuality, gender — and of course music — without ever compromising his authenticity or razor wit. Perhaps more than any artist since the Beatles, his endless talent and insistence on total creative control has forged not only a genre (or several), but a world unto himself that's far bigger than him. He even had to invent an unpronounceable name for it. Part shy nature, part calculated career ploy, Prince's coyness has served only to enhance his mystique, and as tonight's show progressed I became aware that we were experiencing something greater than just a concert, something far more powerful that transcends both performer and audience. For all the hits and guitar solos and wisecracks, the evening feels like a celebration of "Prince" — not the man nor the music necessarily, or even the fans, but rather the unique purple universe that those three things have created. It's not easy to define but you know it when you hear it because it sounds and feels like nothing else.
The house lights come up, but as the buzzing crowd begins to filter from its seats Prince and the band unexpectedly reemerge, almost apologetically. "We just can't leave!" he explains, before launching into the vaguely spiritual "Mountains", one of my favorite Revolution-era tracks, from the magnificent if oft-overlooked Parade album ("Once upon a time in a land called fantasy…") Not for the first time tonight the set-list seems to take even Prince by surprise, and the number morphs seamlessly into The Jacksons' "Shake Your Body", as if he'd suddenly spotted the two songs' shared heavenly groove.
An early predecessor of the multi-racial, cross-gender genre-hopping that Prince took to new levels was Sly & The Family Stone, whose 1968 hit "Everyday People" is next to be given the purple treatment. Prince's brain now seems to be operating on some kind of musical stream of consciousness, as he is apparently transformed into a sort of human jukebox. The effect is almost like watching Prince off-duty, jamming on old favourites, but it's all in a night's work. Delving deeper into the pop archive, he raises his arms skyward and implores, "I wanna take you hiiiigh-err!" Sadly for the rest of us there's nowhere else to go from here but down.
Prince
Madison Square Garden, New York
February 7, 2011
Laydown
1999
Little Red Corvette
The Beautiful Ones
Controversy
Purple Rain
Raspberry Beret
Cream
Cool
Let's Work
U Got The Look
Nothing Compares 2 U
Intermission
Crazy (with Cee-Lo Green)
Let's Go Crazy
Delirious
Dreamer
Welcome 2 America
When Doves Cry
Kiss
Nasty Girl
Forever In My Life
Sign 'O' The Times
Alphabet St.
A Love Bizarre
Hot Thing
Pop Life
I Would Die 4 U
Single Ladies
If I Was Your Girlfriend
Insatiable
Scandalous
Adore
Encore
Mountains
Shake Your Body (The Jacksons cover)
Everyday People (Sly & The Family Stone cover)
I Want To Take You Higher (Sly & The Family Stone cover)