A
s you will not need reminding, next week's Champions League final between Bayern Munich and Borussia Dortmund will be the first such game to involve two teams from Germany. The emphatic nature of both clubs' semi-final victories has caused the media to focus on the fact, although it is already the fourth time teams from a single country have disputed the final of Europe's most prestigious cup competition. Spain, Italy and England had each achieved the same distinction prior to this weekend's upcoming Battle of the Bundesliga. In 2000 Real Madrid beat Valencia in Paris, in 2003 Milan overcame Juventus in Manchester and in 2008 Manchester United defeated Chelsea in Moscow. On each previous occasion the league in question had truly dominated that year's competition: La Liga, Serie A and Premier League provided three semi-finalists in '00, '03 and '08 respectively, making a one-country final almost inevitable. (The "foreign" fourth semi-finalist was made to seem like an interloper who had stumbled into a domestic cup competition, determined to break the monopoly but destined to fail.)
A less well known fact is that Bayern Munich and Borussia Dortmund were also the first clubs from the same country to meet at any stage of the European Cup back in 1998, the first season UEFA allocated a place in the Champions League draw for domestic league runners-up as well as champions.* For many, at the time the new ruling seemed a perverse distortion of the European Champions' Cup's original ideals, although such an occurrence had long been common-place in the UEFA Cup (now known as the Europa League), into which Europe's top leagues have traditionally been granted several entrants. The final of that competition has been disputed by teams from a single country on nine separate occasions.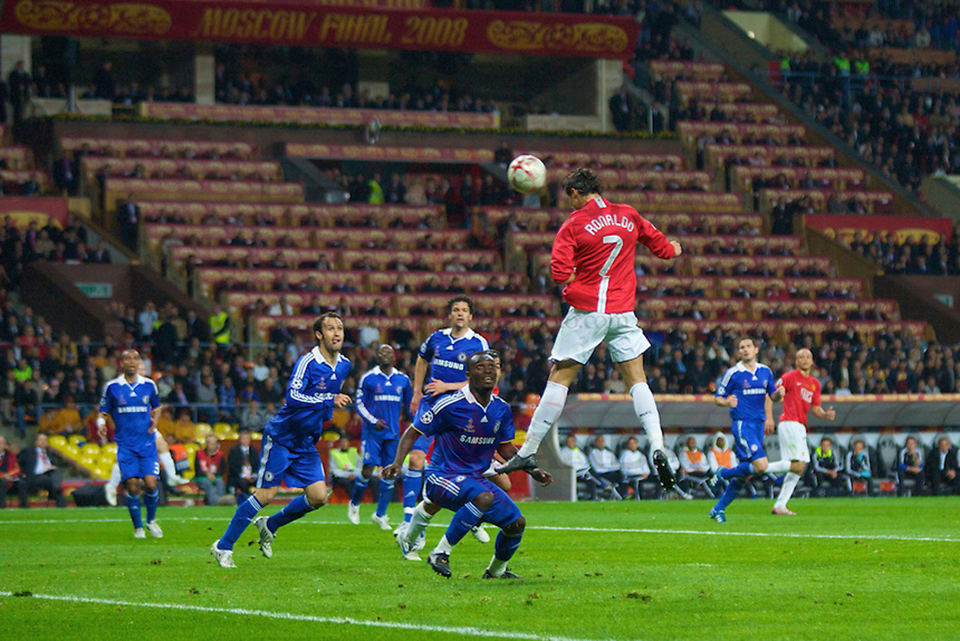 Manchester United's Cristiano Ronaldo opens the scoring with a free header against Chelsea in the 2008 Champions League Final in Moscow. United were victorious in a penalty shoot-out (in which the Portuguese winger missed).
In the modern-day Champions League, if a country still has more than one representative involved come April, commentators are invariably led to conclude that it signifies that league's current overall strength, often resorting to militaristically-charged terms like "shift of power" or "changing of the guard". On the surface, a one-country final does provide a good advertisement for that domestic league, but in Spain and Germany in particular, the gap between the top two clubs and those directly below them has probably never been wider.
There are also other, less immediately apparent aspects surrounding this change in the competition that are rarely discussed. I have always been confused by those that choose to root for a club in European competition based on the country whose league it represents. This feeling however does not extend to those involved: players or fans on the losing side at Wembley will certainly not be consoled by the fact that the trophy has been won by a German club besides their own. Historically, club football has never had anything to do with national identity, but everything to do with regional or even hyper-local pride. Yet more recently, the increasingly international fan-bases of Europe's top clubs have further diluted what traces of national identity were there to begin with. Football may have always been a global game, but today kids on Fifth Avenue are just as likely to be wearing Messi shirts as those on La Rambla.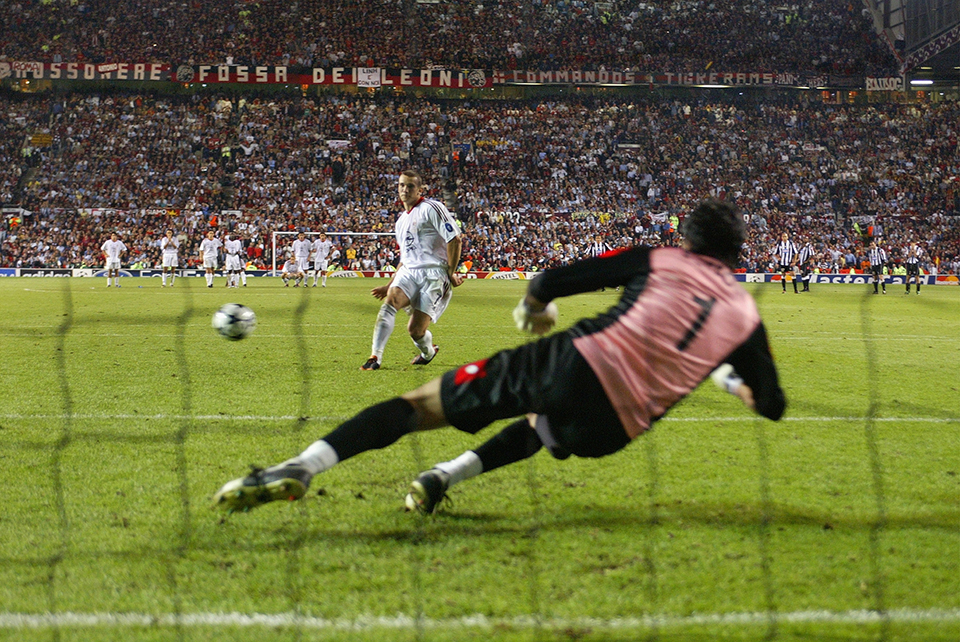 Andriy Shevchenko sends Juventus goalie Gigi Buffon the wrong way to seal Milan's victory on penalties in the 2003 Champions League Final at Old Trafford.
By definition, national team football is bound by political borders: for a tournament such as the World Cup, each coach has only the best players from his team's country available for selection. In club competition there are no such confines in assembling a squad — any limitations are purely financial. Consequently the European Cup is a parade of wealth in the form of global talent dispersed across the continent. For these reasons it has always been synonymous with a certain glamour and sophistication. When two teams meet in the Champions League we are taken on a vicarious return trip across Europe, a mid-week city break amidst cafes and bars, even if we only get to see the inside of a football stadium. Whether it's the passion of a mid-sized industrial town or the grandeur of an elegant capital, over the course of two legs the tie becomes a cultural, linguistic and tactical exchange that extends to fans, players and those watching on TV.
Though it does not detract from their achievement, this element is essentially lost when two teams from the same country meet in the final of the competition. What is conceived as a showpiece for European football instead reverts to a particularly intense version of an already fiercely contested local derby. This factor undoubtedly provides an added dimension, due to a supposed mutual dislike and over-familiarity. Yet today's top European clubs are equally accustomed to facing foreign opposition as they are any domestic opponent, by virtue of the simple fact that they compete in European competition almost as frequently. The expansion of the Champions League has allowed the continent's most successful sides to forge pan-European rivalries akin to those between domestic adversaries. Though the format might differ, for Europe's elite the tournament has now become a second league (just as it was conceived), and is consequently treated as such. What results is a competition in which nationality and borders are essentially meaningless.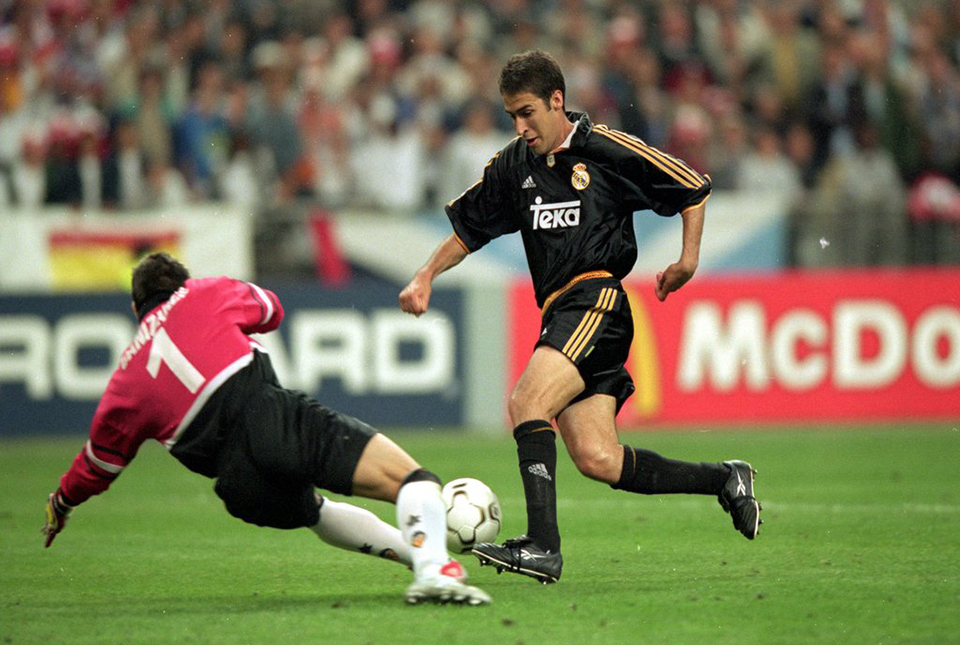 Real Madrid's Raul rounds Valencia goalkeeper Santiago Canizares to score his side's third goal in the 2000 Champions League Final, the first such game to feature two clubs from the same country.
The same applies to fans, now just as likely to follow games elsewhere in Europe as they are those taking place in their own country. As a brand the Champions League has become the most successful football competition in the world, but those watching have been spoiled. This season's competition alone saw several clashes between some of the giants of the European game even before the semi-final stage – Milan-Barcelona, Manchester United-Real Madrid, Juventus-Bayern Munich –- all heavyweight showdowns that would have once been savored for a potential final. Besides a scheme to increase corporate revenue, the nature of the modern Champions League is highly indicative of our society's more-is-more attitude and insatiable demand for instant gratification.
In the old European Cup, less fashionable clubs frequently reached the latter stages, such was the slim structure of the tournament. But it's hard to imagine Steaua Bucharest or Red Star Belgrade lifting the trophy again any time soon. The last team outside England, Spain or Italy to win the Champions League was Mourinho's Porto in 2004. (The team they beat, Monaco, currently find themselves stuck in France's Ligue 2.) This cycle will be broken on Saturday when for the first time in twelve years the trophy will be awarded to a club from Germany. Whether that team hails from Munich or Dortmund is, in the end, irrelevant. What matters to the winner is that they will have been crowned champions of Europe.


*Prior to the 1997-98 season, the possibility of two teams from the same domestic league qualifying would only arise if the team that won the European Cup did not also win their domestic league, resulting in two representatives from that country in the following season's competition that were, however, deliberately kept apart in the draw.