Gaspare Vinci
Brand concept, original illustrations, logo and label design for Sicilian winemaker's first solo venture into the U.S. market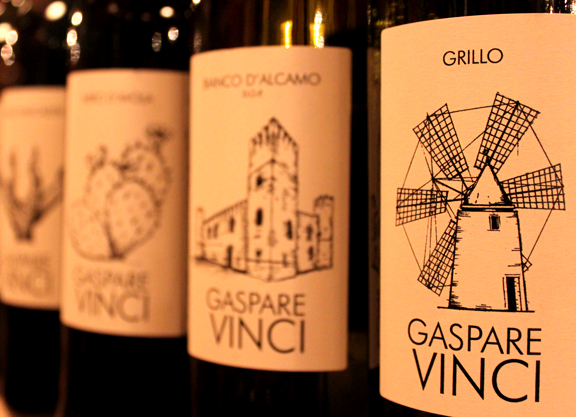 Gaspare Vinci's eponymous label came about when New York-based importer Domenico Valentino suggested they bring in wines under his own name. Until that meeting the Sicilian winemaker had always worked as a consulting enologist, one that makes wine (or advices on its production) for other wineries, most recently for the northern wine firm Noi Negociants.
Gaspare hails from Marsala, a seaport at the westernmost tip of the island and also the name of the famous local fortified wine. An expert on Sicily's native grape varieties and viticultural traditions, Gaspare makes wines that are very much of their place, something I felt their labels should reflect. If you've ever read the small-print on a box of sea salt you'll be aware that the province of Trapani is known for its salt mills. These iconic conical constructions were the starting point for my label idea. I wanted the design to be as clean and simple as the wines themselves, and I began to look for elements specific to the region that I could incorporate graphically as hand drawings. In addition to the salt mill, I eventually settled on the Castello dei Conti di Modica in Alcamo, the prickly pear cactus (opuntia) and the claw-like Alberello vine as appropriate architectural and botanical representations of Sicily in New York.
All four wines in the Gaspare Vinci series are available at Vino Fine Wine and Spirits in New York City.