"REALLY? You don't say!" Evidently our sarcastic taxi driver doesn't need to be told where to take us — my unmistakeable mid-eighties Club América jersey is a glaring enough clue. We climb in to the back of his Nissan on the edge of Parque España; moments later we are heading south down Nuevo Léon, our destination the Estadio Azteca, where América is hosting Puebla in week three of the Liga MX's Torneo Clausura.
Calz de Tlalpan is a wide highway leading to the vast forested borough of the same name. Unfortunately it is also susceptible to Saturday afternoon match-day traffic. I watch carriages of home supporters whiz past aboard the Treno Legero that runs parallel to the road. Meanwhile our car has become a stationary blue dot on my iPhone navigation app. I begin to regret not choosing public transport, but our driver assures us that we'll make it in time for kick-off, which is less than twenty minutes away. I remain skeptical but I'm comforted by the site of more fans packed into cars and buses gridlocked alongside us, none of whom appear as nervous as me.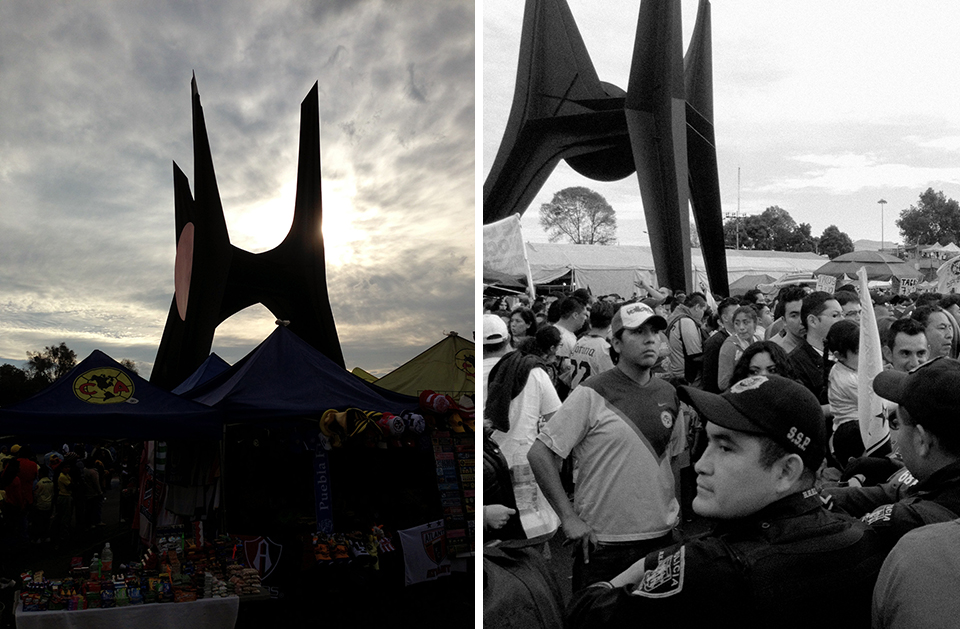 Pro-América graffiti tells me we must be getting closer, which our driver quickly confirms. "We're now entering Aguilas country," he explains, referring to the club's most common nickname, as we pass dozens of street vendors selling giant yellow flags and blue novelty afro wigs. Suddenly, I glimpse part of the stadium's roof out of the right window. Before I've time to take out my camera the car has come to a halt. "Here we are," announces our driver, pointing in the stadium's general direction. "El Coloso de Santa Ursula!"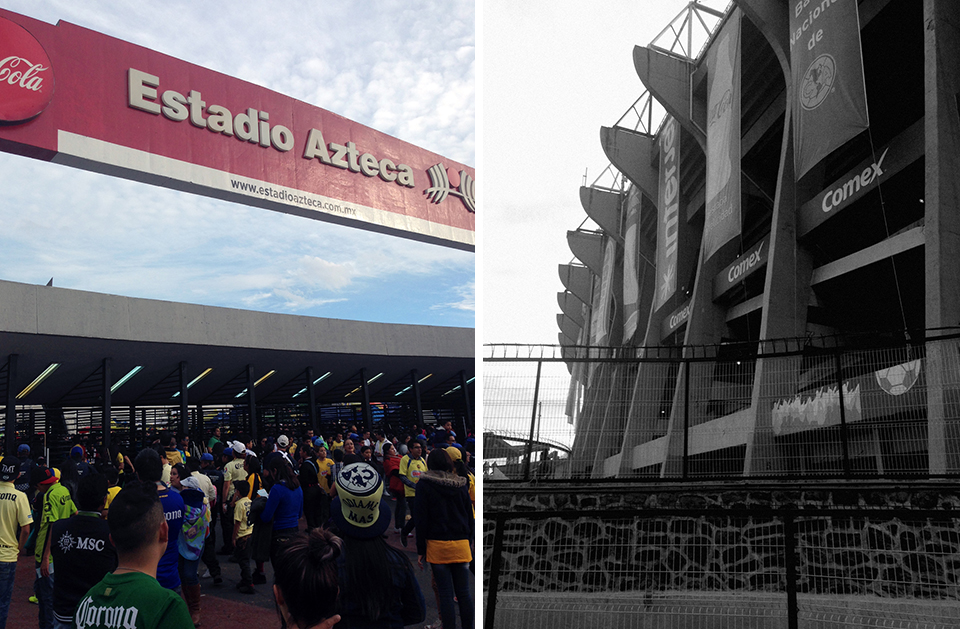 With kick-off nearing, I reluctantly ignore the array of stalls offering replica jerseys, more flags and various gold and blue trinkets. Almost immediately our path is blocked, and we find ourselves trapped behind a line of police officers, their riot shields positioned to form a human barricade. Thanks to the initiative of some quick-thinking Mexicans we are able to round this initial obstacle — the row of cops reacts by snaking into an L-shape but is too late to stop us passing. Once beyond the first blockade we become part of a larger crowd of ticket-holders that is are being prevented from entering through the stadium's old-fashioned subway-style turnstiles. Five more officers perch awkwardly atop the entrance's sloping concrete wall, one of whom shouts inaudible instructions through a megaphone which she has neglected to switch on. All of this takes place just feet away from Alexander Calder's giant sculpture, Sol Rojo, which is now silhouetted in the late afternoon sun. Clearly this isn't the standard procedure at home games, and the local fans' confusion quickly turns to frustration, which fortunately is expressed through humour rather than violence. The chief source of entertainment is a middle-aged man in a Puebla shirt, who despite his allegiance keeps the crowd chuckling with a series of witty one-liners.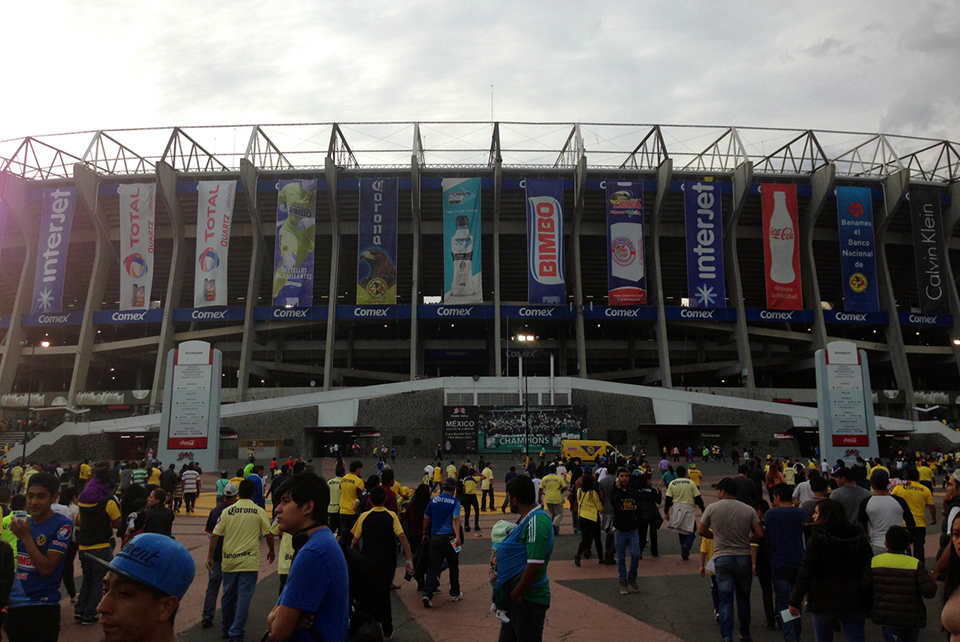 Clutching my ticket in one hand, my wife's palm in the other, we squeeze through an increasingly impatient mass of bodies into the calm open space of the other side. Everything about the Azteca is as I'd pictured it, right down to the little stone wall at the base of the stadium's perimeter. There is little time to marvel at the stadium's exterior for the match has already started, and collective gasps of anticipation waft at intervals from inside the ground. I follow a group of excited young fans and attempt to fathom the ground's foreboding outer skeleton, a mid-century maze of sloping ramps and vast beams of concrete. The girl at the gate barely glances at our tickets as we push through a narrow opening and finally walk out into the arena directly behind the goal. Happily the score is still nil-nil, but I always notice that the match itself becomes almost secondary to the spectacle on special occasions such as these.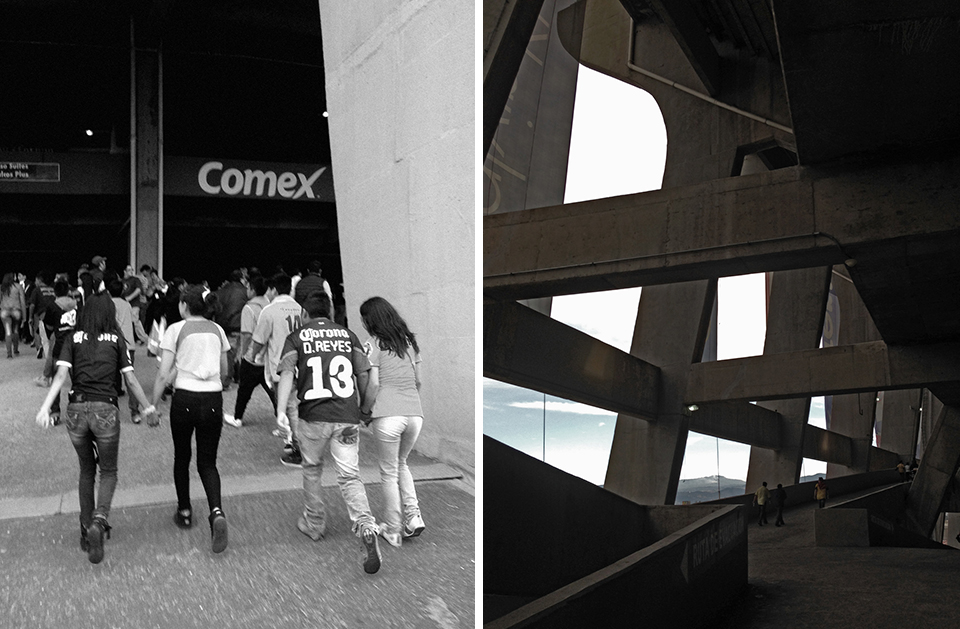 "Vaaaa-mos! Vamos Ameeee-ri-caaaa!" The home crowd is already in good voice, and I can barely hear the young attendant as he points us in the direction of Section 201, PAN-2, which stands for Platea Alta Norte. When we reach Row 3 a female attendant politely asks the family sitting in our seats to find room elsewhere. As I finally reach the vacant seat 13 a huge cold cerveza Victoria is thrust into my welcoming hand, which evidently can be ordered quite inadvertently simply by making eye contact with a man in a uniform a few rows below you.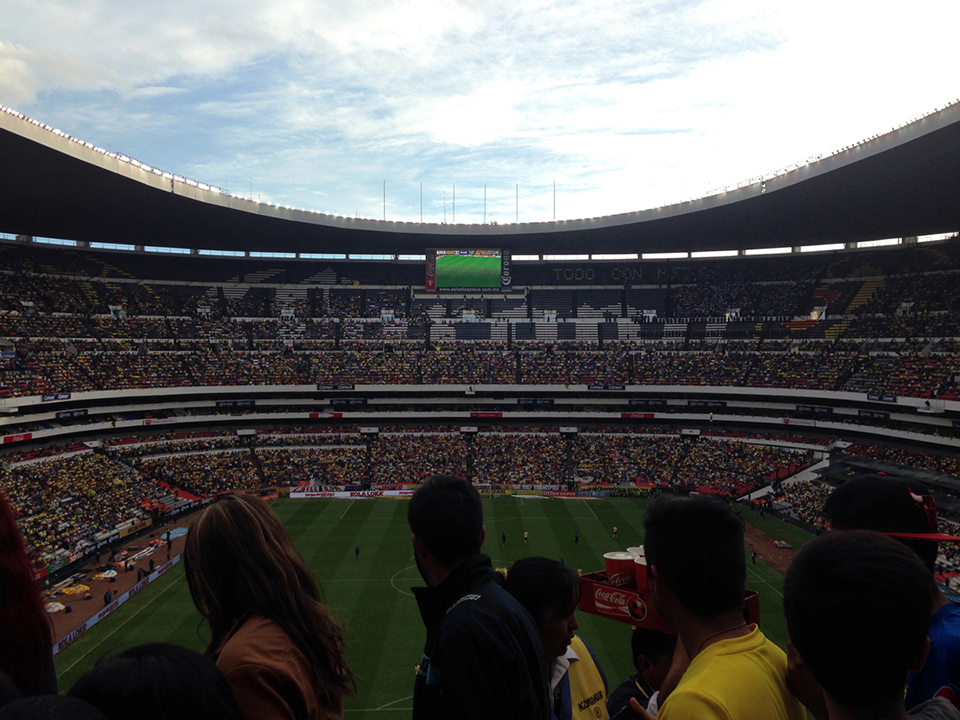 Our seats are every bit as good as I'd hoped: we sit on the third row of the second tier, slightly to the left of the goal. Not bad considering our tickets were purchased two days before the match for a mere 125 pesos (around $8.50) each. To put that into some perspective, the last time I went to a match in England tickets cost £25 a head. And that was for a pre-season friendly at Leicester City — twelve years ago.
I choose not to dwell on that depressing thought and opt instead to marvel at my new surroundings. Designed by Mexican architects Pedro Ramírez Vázquez and Rafael Mijares Alcérreca and inaugurated in 1966 (the roof was added just in time for the '68 Olympics), the Estadio Azteca quickly grew into arguably the most iconic football stadium of the late twentieth-century, during which period it became the first venue to host the World Cup final twice. It could be suggested that those two tournaments bookend the World Cup's golden age. Indeed, so ingrained are those colourful competitions into football fans' collective psyche that I've always considered the Azteca to be the World Cup's unofficial spiritual home, a notion reinforced by it having witnessed the trophy lifted by the game's two most revered stars: Pelé in 1970 and Diego Maradona in 1986. If I were to ever lift the World Cup trophy myself (a dream that dims a little more with each passing year) I certainly can't think of a place I'd rather be.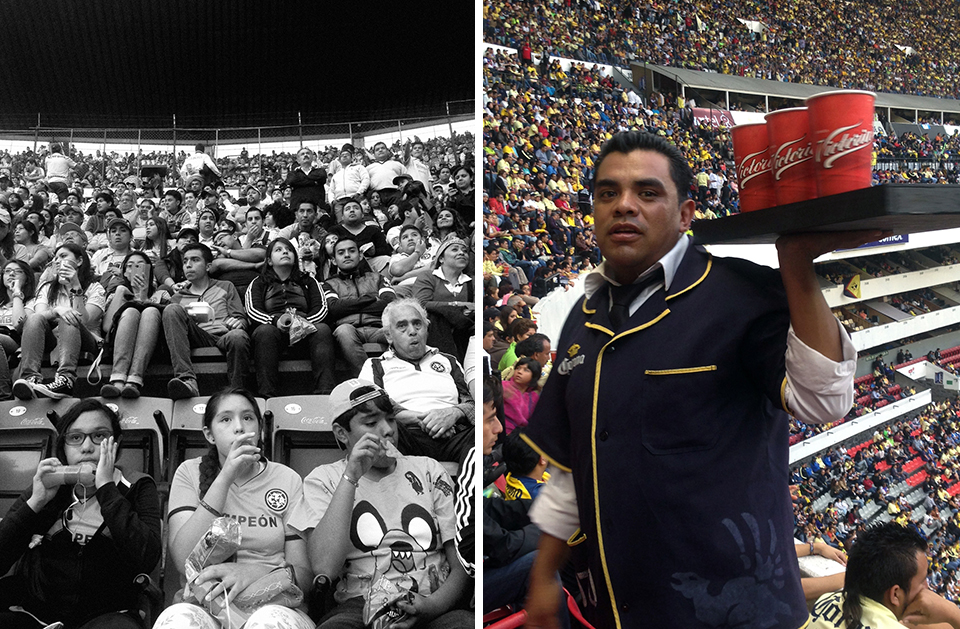 From my privileged vantage point I begin to replay the Azteca's most memorable moments from those two sun-drenched tournaments. It quickly dawns on me that all the goals that immediately spring to mind were scored at the closest end to us, just feet from where I now sit. Gianni Rivera's winner for Italy in their 4-3 extra-time semi-final victory over West Germany (a match referred to as "El Partido del Siglo" on a commemorative plaque outside the stadium) and Carlos Alberto's famous fourth goal for Brazil in the final; Manuel Negrete's spectacular scissor kick for the hosts against Bulgaria in 1986, Gary Lineker's second against Paraguay, Maradona's two goals against England (the Hand of God and the "Gol del Siglo"), his two oft-overlooked strikes against Belgium, as well as Jorge Burruchaga's late winner against West Germany in the final.
Football stadia have changed a lot since then, some beyond recognition. Wembley has been demolished and rebuilt in recent years, while the modern Maracana bears little resemblance to the stadium that managed to contain 200,000 spectators for the 1950 World Cup final. Many of the world's top clubs now play at new, corporate-funded arenas. In this regard the Azteca is no different. The stadium is now owned by Grupo Televisa, while vast banners displaying sponsors' logos are rigged to the roof. The off-white benches that once lined the Azteca's terraces have recently given way to proper seating, whose colours have been arranged strategically so when the ground sits empty the logos of Coca-Cola and Corona — the same logos that are emblazoned across the chest and shoulders of both teams' shirts — span the entire stand. Of course, these aspects are invisible when the stadium is full, and I'm pleasantly surprised to find that the only other significant change since '86 is the addition of two large video scoreboards at either end.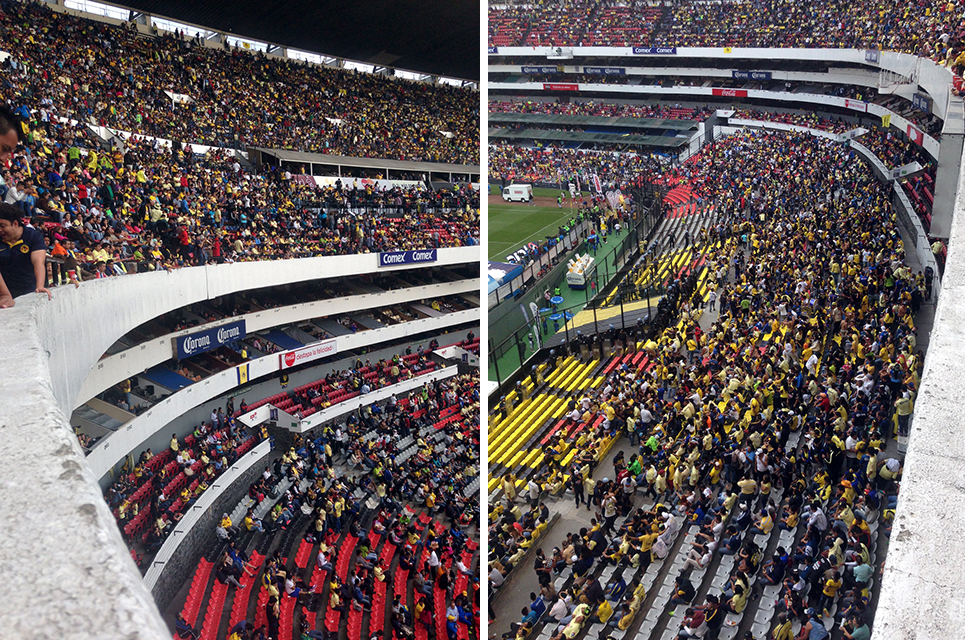 Just below the scoreboard at the top of our tier congregate América's most hardcore supporters. A wire fence separates them from supposedly "casual" fans, although judging by their incessant chanting and fervent waving of yellow flags the only thing on their mind is to have a good time (and hopefully pick up three points along the way). A small pocket of away fans is nested high in the opposite end of the stadium, surrounded by helmeted police.
So far neither set of supporters has had anything to cheer about. América, captained by Mexican international Paul Aguilar, is dominating possession and creating plenty of early chances. The home side has seen some new arrivals since winning the Torneo Apertura in December. Among these is Colombian winger Carlos Darwin Quintero, who looks particularly lively. His defence-splitting pass finds another fresh signing, crew-cutted striker Dario Benedetto, who drags a shot beyond the far post. Moments later the Argentine gets on the end of compatriot Rubens Sambueza's dinked cross and head goalwards, only for Puebla goalkeeper Rodolfo Cota to pull off the first of many excellent saves. Oribe Peralta is next to come close to scoring, racing onto Quintero's low centre only to fire wide from inside the six-yard box. Before half-time the Mexican international spurns an almost identical opportunity, but this time his shot rebounds off Cota, onto his shins and out of play.
In honour of the home team's nickname — Aguilas — an eagle is unleashed into the arena during the interval. The giant bird performs a couple of airborne laps of the stadium before swooping down into the centre circle and into the arms of its trusty handler. With the half-time entertainment out of the way, a stadium announcer now attempts to further warm up the crowd by conducting fans in cries of "Vaaamosss! Vamos Am-eeeeerr-iii-ccaaa!"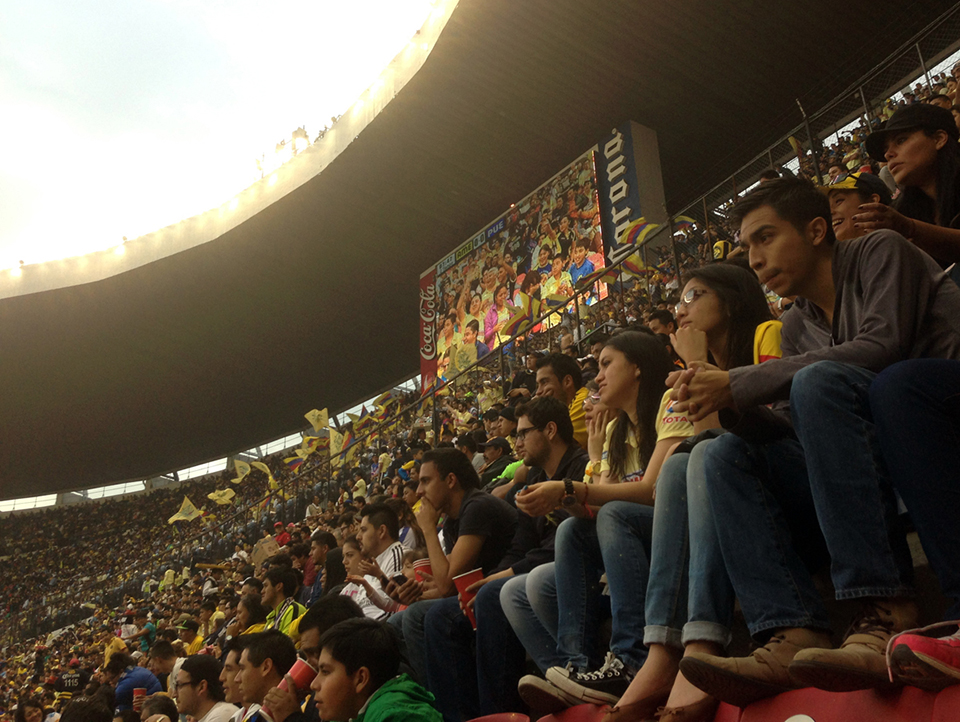 Early in the second half América's Uruguayan coach Gustavo Matosas makes three substitutions in quick succession. The third of these — youth team forward Carlos Camacho — wears the number 101 shirt, which is the first time I've ever seen a player wearing three digits on his back. The team soon shifts into a higher gear and searches for the opening goal with relentless tempo. Quintero seems to be involved in everything from his advanced position on the right wing. First, his deep cross is met by Benedetto, whose angled header forces Cota to change direction and palm the ball to safety. Moments later, he receives the ball from a corner and shoots from a tight angle, only for Puebla's rock solid goalie to parry.
Puebla's forays into the opposition half are as cautious as they are infrequent, their five-man defence appearing more content to deny the Mexican champions from getting on the scoresheet. América are unfortunate not to break the deadlock on 75 minutes. Benedetto picks up a stray cross on the left and pulls the ball back for Quintero. The Colombian takes a touch to evade Orozco's challenge before bending a right foot shot that rebounds off the outside of the post.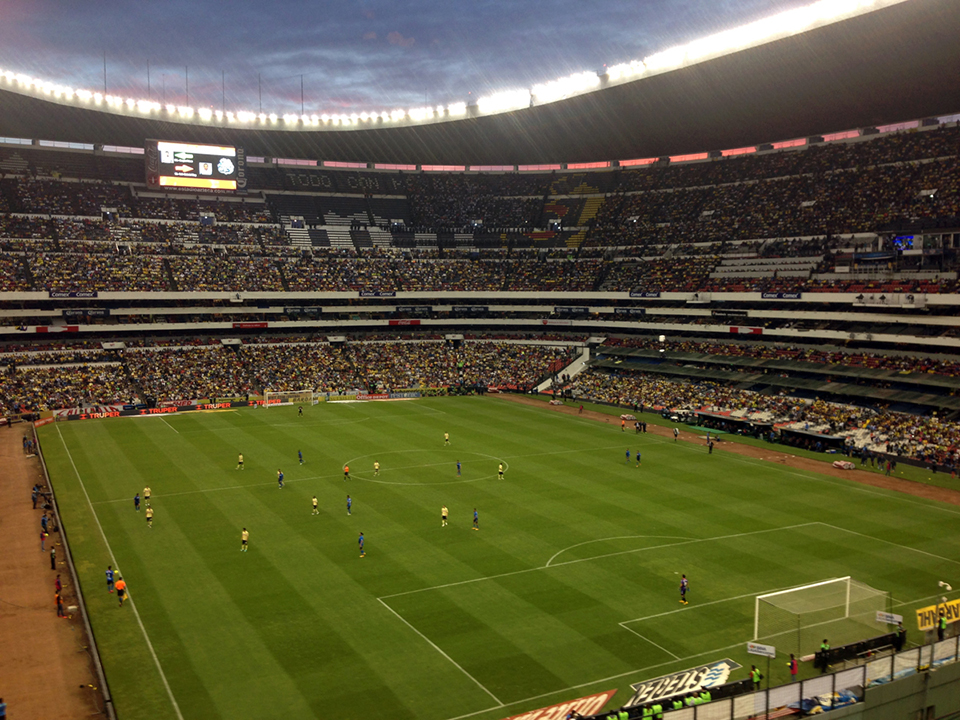 As the sun sets on the Azteca the sky above us turns a warm shade of pink, creating a dramatic backdrop. The closing minutes of the match are played out inside a now floodlit stadium, and the home fans' restless anxiety becomes quite palpable. With neither side having found the net the loudest roar of the afternoon is reserved for the entrance of substitute Cuauhetémoc Blanco. Though the veteran international now wears the colours of Puebla, the local fans have clearly not forgotten the fifteen years he spent at the Azteca, and he is welcomed into the game with a rapturous reception fit for a local hero. A survivor of the 1998 and 2002 World Cups, the 42-year-old has clearly lost a little pace and gained a little weight in the ensuing years. Yet his arrival finally sparks life into the away side. Blanco's cameo performance of positive runs, clever passes (most memorable of which is an audacious 25-yard no-look backheel inside his own half) and all-round creativity constitutes Puebla's best spell of the match.
América struggles against its re-energized opponents for the next ten minutes, and the crowd starts to finally show its frustration, resorting to a chorus of deafening whistles. A late chance is presented in stoppage time, when a free-kick is won over on the near touchline. Sambueza swings in a deep and inviting cross. The other Aguilar — Pablo — meets the ball at the far post and looks set to score. But rather than nod home a certain winning goal, he opts to fist the ball into the Puebla net. Though the central defender's technique would have received high praise had he been spiking a winning point on the volleyball court, from where we're sitting the foul is plain to see even without the aid of a replay. The referee immediately rules out the goal and does not hesitate to show the culprit a second yellow card.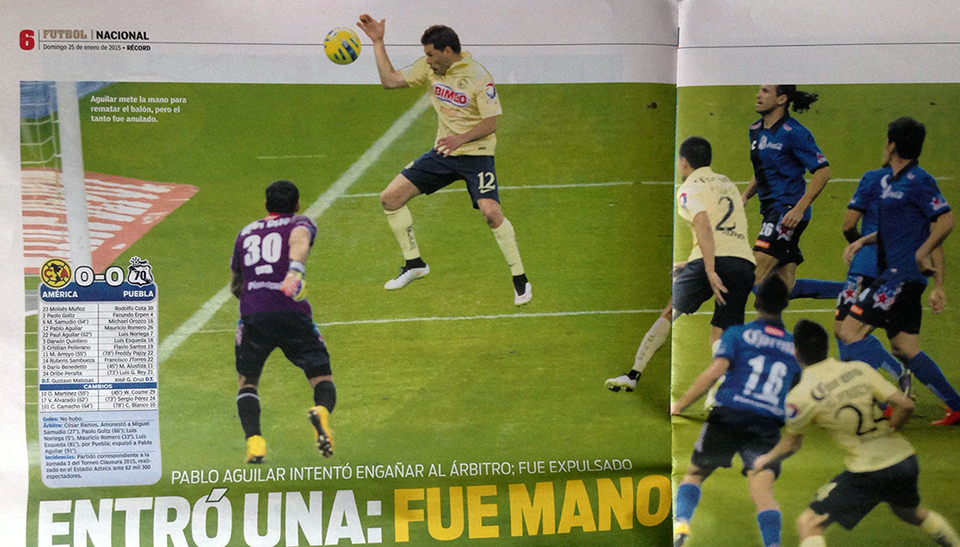 What compelled Aguilar to use his hand to score into the same net into which Diego Maradona had been assisted by the "Hand of God" 28-and-a-half years earlier? The irony of the situation is not lost on me, and I'm compelled to believe that some strange footballing variety of cosmic force must have been at play. Aside from the infringement itself, the two incidents bear no resemblance to one another — for a start Maradona got away with it! But where Diego jumped speculatively to intercept Steve Hodge's lobbed backpass, Aguilar was the recipient of a cross aimed towards him. And while the little Argentine would not have reached the ball ahead of Shilton had he not used his left hand, the Paraguayan could have just have easily met the ball with his head. Instead his unnecessary actions instantly recall one of the Azteca's most infamous moments, and in a bizarre way I feel privileged to have witnessed it.
The disappointment of wasting the chance and losing a man in such circumstances is a blow from which neither the team nor fans recover, and an entertaining match ends goalless. Having lost their previous match at Tijuana, today's final whistle signals América's second successive match without finding the net. In no hurry to bring an end to the occasion, we remain seated and watch as the stands empty, slowly revealing the giant logos of America's chief sponsors. The hardcore home fans are still penned in their section by rows of police, and exiting the stadium proves a more straightforward task than entering had two hours earlier. Once outside we pass a life-size bronze statue of an unknown footballer. There is no plaque to identify him nor his creator, and according to even official sources his origin is a mystery. Maybe they should call him Pablo.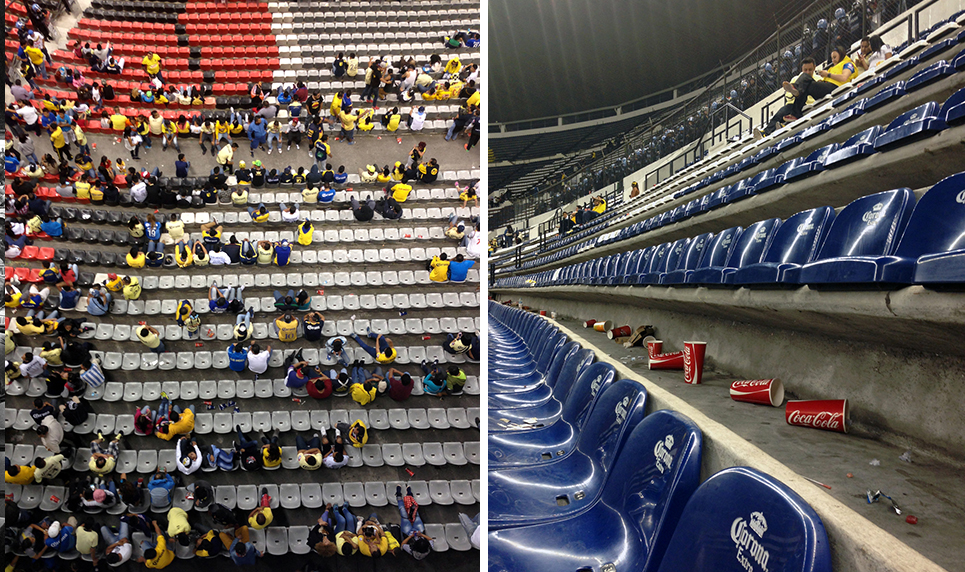 Liga MX Torneo Clausura 2015
Estadio Azteca, Mexico City
Club América 0-0 Puebla FC
América: 23 Moisés Muñoz, 2 Paolo Goltz, 6 Miguel Samudio (101 Carlos Camacho 64′), 12 Pablo Aguilar, 22 Paul Aguilar (17 Ventura Alvarado 62′), 3 Darwin Quintero, 5 Cristian Pellerano, 11 Michael Arroyo (10 Osvaldo Martínez 55′), 14 Rubens Sambueza, 9 Dario Benedetto, 24 Oribe Peralta. Manager: Gustavo Matosas.
Puebla: 30 Rodolfo Cota, 4 Facundo Erpen, 16 Michael Orozco, 26 Mauricio Romero, 7 Luis Noriega, 18 Luis Esqueda, 19 Flavio Santos, 22 Freddy Pajoy (10 Cuauhtémoc Blanco 78′), 28 Francisco Torres, 11 Matías Alustiza (29 Wilberto Cosme 45′), 21 Luis Gabriel Rey (24 Sergio Pérez 73′). Manager: José Guadalupe Cruz.
Referee: César Arturo Ramos Palazuelos (Culiacán, Sinaloa).
Bookings: Noriega 5′, Samudio 27′, Romero 33′, Goltz 66′, Esqueda 81′.
Sent off: Pablo Aguilar 91′.
Attendance: 62,300.
Watch full highlights of the match here: