I
t has been put to me on more than one occasion (by more than one person) that a career in celebrity photojournalism may have been my true calling in life. I have always refuted the notion — frankly, the idea of spending my days hidden behind a hedgerow waiting for the latest B-lister to take out the recycling is less than appealing. That said, should I spot an actor or singer I admire on the street I will happily say hello, much to my wife's embarrassment. But the suggestion that I would be happy to stalk the rich and famous probably came about because there was a time, around a decade ago, when I did indulge my inner
paparazzo
far more actively.
Flashback to November 2004. I'd been living in Florence for about a year and in the typical fashion of sporadically-employed Englishmen, often found myself with oodles of leisure time. The Saturday evening in question was no different: I'd spent the afternoon browsing old record shops, taking a few pictures, and enjoying a passeggiata along the pretty streets of the Renaissance city. With nothing else to do and no particular place to go I turned and found myself on Borgo Ognissanti, a narrow road lined with antique stores, though fairly quiet after dark. Turning into the piazza of the same name at the corner of the Hotel Excelsior, I was struck by the sight of an enormous blue-and-black bus parked a few feet in front of me. Standing next to the vehicle was a group of four people, the tallest of whom was wearing a tracksuit that matched the colours of the bus. At this point my mind finally caught up and realised that it was none other than Inter goalkeeper Francesco Toldo! Inter were due to play Fiorentina the next day, a match I had a ticket for; the bus was the team's transportation and the team would be spending the night at the hotel.
Something of a living legend in Florence, Toldo had spent eight seasons at Fiorentina before moving to the nerazzurri, so I assumed he must still have friends in the city. The anonymous members of the group paused their conversation and turned to look in my direction, clearly waiting to follow Toldo's lead. I'd always had the impression that the former Italian number one was a pretty down-to-earth guy (he married a supermarket checkout girl and arrived at his own wedding on the back of a Vespa), so I didn't hesitate to ask him for a photo. He seemed more than happy to satisfy my request, and so I handed my Sony Cybershot-U to one of his friends so he could immortalise the moment. Toldo's expression was so beaming that after seeing the resulting photo my friend Laura was convinced I'd posed next to a 6'5″ cardboard cutout.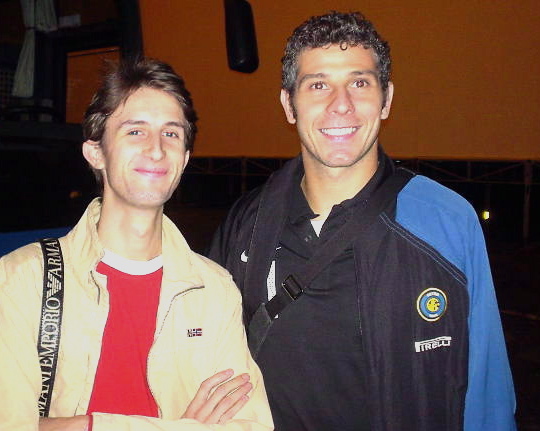 After that unexpected encounter I wandered around the outside of the hotel for a minute, in the hopes of running into one of Inter's many other star players. Aside from Toldo the piazza was essentially deserted, but through a window looking onto the Lungarno I did spy club captain Javier Zanetti, coach Roberto Mancini, plus Italian legends Giacinto Facchetti and Gabriele Oriali cheering excitedly in front of a television set. I ran to the nearest bar to see that Juventus had just lost to lowly Reggina. The following afternoon Toldo was back at the Artemio Franchi stadium to face his former club. The match ended in a draw, and the veteran goalkeeper left the field in tears, so moved was he by the home fans' cries of "Tol-do! Toooolll-dooo!"
* * *
I
t didn't occur to me to return to the Excelsior until exactly a year later, when Inter's city rivals, Milan, came to town. After politely declining an invitation to meet friends at the bar I arrived at Piazza Ognissanti fully prepared for a repeat of my Toldo experience, only to find the square bustling with guests, taxi drivers and doormen. My plan had been to waltz into the hotel as a "guest"; if anyone tried to stop me I'd play the "oblivious foreigner" card. But on this occasion the hotel had engaged an employee to act as security and oversee comings and goings. Dressed in a black topcoat, which he accessorised with an earpiece and walkie-talkie, the young man appeared to relish his responsibility and was seemingly determined to refuse admission to anyone who dared to attempt to breach the lobby's large revolving door. Alongside me was a young Italian couple whom I soon discovered were there for the same reason as me. I was unsure whether the pair would prove useful sidekicks or draw unwanted attention to my own agenda, but either way my plan was so far being foiled.
I wandered up Via del Moro and around the corner to the nearby Caffè Megara, a favourite locale of mine for having lunch or watching football. The Saturday night match between Roma and Juventus was just starting, so I took a seat at the bar and ordered a chiara media. At half-time I took a final swig of my beer and decided to check back in at the Excelsior. It was now around 9:30pm, the time most people would be eating dinner, and the square was a decidedly quieter place. The hotel's one-man security team was nowhere to be seen, and as I approached the entrance I was surprised to find the revolving doors completely unguarded.
Now that I'd crossed that initial threshold I immediately set to putting my carefully thought-out plan into practice. Taking one cursory glance around the room to get my bearings, I sauntered over to the front desk, where I made some vague inquiry to supposedly justify my presence. From a selection fanned out on a table the woman handed me a brochure, an ideal prop as it turned out, and I pretended to read it while casually making my way around the lobby, naturally looking up every three seconds to check for passing footballers.
When I reached the far end I came to a set of elegant wooden doors with frosted glass windows leading into another large room. At that moment one of the doors opened, and out stepped Carlo Ancelotti. The Milan coach walked straight past me, across the lobby and into a vacant lift. He'd left the door to the room slightly ajar, and peering inside I saw that the Milan squad was inside eating dinner. Alessandro Nesta and Christian Vieri were seated at the same table in matching red tracksuits, so I began leaning my head from left to right in an attempt to spot other rossoneri players. Just then, I heard a bell ring to my left: ding! I turned as the doors of a second lift were opening: from inside its warm, wood-paneled glow stepped Paolo Maldini.
What happened next is something of a blur, but before I knew what I was doing I'd glided across the marble floor and was a foot away from the great defender, who looked every bit il capitano in his dark Milan blazer. Instinctively I stuck out my right hand, which Maldini received in his, and we made eye contact for a few fleeting nanoseconds. Uncertain how to sum up my years of admiration for the man with the economy that the moment required, I simply thanked him for nothing in particular. According to his profile Maldini and I are the same height, yet he seemed to tower over me — though maybe only because by this point my legs had turned to spaghetti. But that didn't stop me looking to take things one step further. I reached into my bag and pulled out a pristine, glossy photo of the Milan captain, which Paolino was gracious enough to sign with the permanent black marker I'd brought along for this very purpose.
By now we were in the middle of a suddenly crowded lobby, and Maldini's attention had already been diverted by someone with whom his relationship was older than sixty seconds. I then noticed that the young Italian couple had also made it inside, but their squeals of excitement were just the kind of behaviour that could jeopardise my progress. When I felt a tap on the shoulder, I knew my fear had been realised. It was the over-zealous security man from earlier.
"How did you get in here?" he asked accusingly.
"Um, the door," I responded, gesturing towards the giant revolving entrance directly behind him.
Confident I'd committed no crime, I turned away from the hair-gelled pest to find myself face-to-face with Milan's Portuguese number ten, Manuel Rui Costa. The ex-Fiorentina midfielder was exiting the bar area and had a friend in tow, who happened to be none other than fellow Viola legend, Gabriel Batistuta. Dressed in civilian clothes, the Argentine striker (who at the time was playing in Qatar) had evidently come over to catch up with his former teammate.
"Ciao Rui," I said, thrusting my hand in his direction. Rui shook it but kept his gaze fixed somewhere in the middle distance.
"Ciao Bati," I said. Batigol grabbed my hand in his, locked eyes and greeted me with a warm and friendly "Ciao!" as if we already knew each other, which, in a spiritual sense perhaps, we did.
I knew my time was running out, so I decided to quit while I was still ahead and leave the premises of my own accord.
Having met three of my idols in the space of five minutes I realised that the evening could unlikely be improved upon. I stepped back out into the cold piazza and began texting everyone I'd ever met.
* * *
A
nother year passed before I returned to the Excelsior. By now I was a skilled veteran in the fine art of loitering, and felt confident that my mission could be accomplished with the right amount of preparation and stealth. Again the visiting side was Milan, although this time the match with Fiorentina was scheduled for a Saturday night. So on Friday evening I arrived at Piazza Ognissanti to find the square all but deserted. Encouraged by this promising sign, I swept into the lobby fully expectant to be soon shaking hands with more
calcio
royalty.
Immediately I spotted a young man in a Milan tracksuit reluctantly making conversation with an eager journalist. It was Milan's centre-forward Marco Borriello, who seemed to be attempting to take refuge between a giant stone column and an enormous Christmas tree. Irrespective of the fact that he was otherwise engaged, Borriello was hardly the calibre of player with whom I'd grown accustomed to rubbing shoulders. Convinced I could do better, I continued past him unchecked. At the far end of the lobby a group of large leather armchairs had been clustered together around a coffee table. In one chair, tapping idly on his mobile phone, sat Milan's combative midfielder Christian Brocchi. In another, staring into the void, was seated a supremely bored-looking Filippo Inzaghi. Since he seemed like a man whose schedule for the next twenty-fours hours was fairly empty, I didn't hesitate in asking for a photo. The Italian World Cup winner duly obliged and leaned in for an impromptu selfie with yours truly. Having clicked the shutter and checked that the resulting snapshot was to Super Pippo's satisfaction, I was about to thank him and leave when I noticed a familiar presence standing to my right. It was my old chum from hotel security, still armed with a walkie-talkie and still doing his best to protect the establishment's millionaire athlete guests from the persistent swathes of ruffians coming in off the street.
I don't know if he recognised me, but he insisted on the same pointless exchange as last time.
"How did you get in?"
I began to gesture towards the revolving door but before I could say anything he interrupted me.
"Look, don't talk to the footballers."
I turned to my new pal for assistance, but Inzaghi didn't want to get involved. Brocchi hadn't looked up from his phone the whole time. The following evening I was at the Stadio Artemio Franchi to see Fiorentina and Milan draw 2-2. Inzaghi came on as a late substitute for Brocchi. Borriello stayed on the bench, Maldini was injured. Rui Costa had moved to Benfica and Batistuta had retired. Toldo was still at Inter, but was no longer first-choice between the sticks. I never went back to the Excelsior.