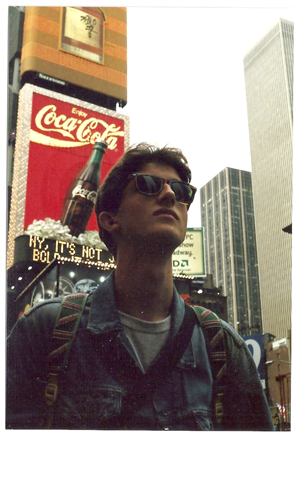 Hello and welcome to my eponymous website!
I am a British graphic designer, photographer and writer based in New York City. I grew up in Loughborough, Leicestershire, and studied Art History and Italian at APU in Cambridge and the Università degli Studi di Pavia in northern Italy. I spent the bulk of my twenties living in Florence, during which time I worked as a writer, translator, English teacher, Art History lecturer, tour guide, deejay and full-time tifoso viola. More importantly I met my wife there. I moved to New York in 2007 after being accepted by The Museum of Modern Art for its internship program. For the last six years I have worked almost solely in graphic design while continuing to write. My writing has appeared most frequently on In Bed With Maradona, Rivista Inutile and British Ideas Corporation.
I live with my wife and cat in Manhattan. I collect football shirts and used LPs. My favourite television show is Columbo. I enjoy egg creams and Campari Soda. I am currently learning to drive on a '04 Honda Civic.
If you are looking for the singer-songwriter and Rock and Roll Hall of Fame inductee please click here.