ABOUT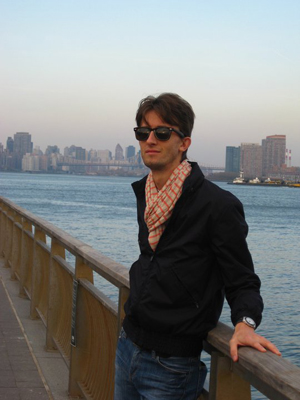 I am a freelance graphic designer (and sometime writer and photographer) based in New York. My work includes logos and brand identity, posters, advertisements, invitations, marketing collateral, product and packaging, web design, email marketing and social media.
I was born and raised in the UK and have a Bachelor of Arts degree in Art History and Italian from APU in Cambridge. After graduating in 2002 I spent several years living in Italy, during which time I worked as a writer, translator, English teacher, Art History lecturer, tour guide and deejay. I have also studied at the Università di Pavia, the International Wine Center and the School of Visual Arts.
In 2007 I moved to New York, having been accepted by the Museum of Modern Art for its prestigious internship program. Trading Florence for 53rd Street, I spent four months working in the museum's marketing department on the sixth floor, just feet away from Les Demoiselles d'Avignon.
For four years I was Creative Director and Graphic Designer for Olcam, a company that operated the restaurants Centovini and I Trulli, the wine store Vino Fine Wine & Spirits and the Italian wine importer Domenico Valentino. I currently work for the Manhattan design agency, Creative Source, Inc.
In 2011 I set out to sample the egg creams of Manhattan's most erstwhile establishments (while they're still around), an admittedly ambitious project that I hope to transform into a book. My work has been featured on PIX11 News, Village Voice, Gothamist, Jeremiah's Vanishing New York and In Bed With Maradona.
I live with my wife in Manhattan. I collect football shirts and used vinyl. My aperitivo of choice is Campari Soda. I don't drive.